Reading Time:
3
minutes
With materials costs soaring at a record pace, developers must get creative to meet proforma budgets. Fire Dampers are regularly included during the design process and can be more expensive than you think. Do you really need them?
What is a Fire Damper (and is it required)?
Fire dampers are passive fire protection products used in HVAC ducts to prevent the spread of fire inside the ductwork through fire-resistance-rated walls and floors. Fire dampers close automatically to protect the spread of fire and can also have integrated smoke barriers as well. Fire Dampers are not always needed, and an overdesign can lead to tens of thousands of dollars in additional costs. 
For inspections, access to the damper must be provided through panels or removable ceiling panels.
The National Fire Protection Association (NFPA) requires Fire Dampers be tested/inspected at the following moments:
Immediately after installation
One year after installation
Every four years
You could be spending $100,000 more than you should be.
Here is how you could be spending $78,000-$108,000 more than you should be on a hotel project:
**Approximate range of typical costs shown above. Actual project costs may vary significantly.
**Total costs exclude considerations for smoke dampers which would significantly increase these numbers.
How Does a Fire Damper Work?
Fire dampers are activated when a fire raises the temperature of a room above 160 degrees, automatically closing upon the detection of heat. The activation system works by digital sensors activating an electric or pneumatic actuator or through a fusible link, which is temperature-sensitive.
Many people believe that a fire damper is required at the entrance to every hotel room when a DOAS fresh air system is used. This is not true! Overdesign can lead to significant and unnecessary inspection costs down the road.
BASE4 Is Here to Help!
We are aware that fire safety can be confusing! Our team of dedicated fire safety experts is here to advise you on the best and most practical solutions for your project. We are architects & engineers rethinking the way buildings get built and will help you make your project cost-effective!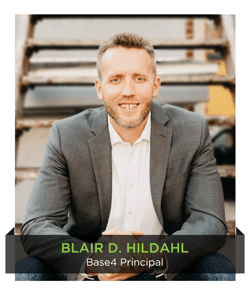 Thank you,
Blair Hildahl
BASE4 Principal
608.304.5228
BlairH@base-4.com