Reading Time:
4
minutes
People are spending more time indoors, so it's important to provide good quality ventilation and air conditioning systems for them. With the development of a multifamily project, you need to decide on the type of HVAC system to install before the project starts. Knowing that this decision will have long-term effects, it's important you know the facts!
Multifamily buildings have HVAC requirements that are different from those of single-family homes. ASHRAE 62 is the general standard for ventilation. ASHRAE 62.2 now covers mid-rise and high-rise residential occupancies, as well as single-family detached and low-rise attached multifamily dwellings.
HVAC Types for Multifamily
The type of HVAC system that you choose for your project can depend largely on cost and energy efficiency. Multifamily developers can choose from two categories of HVAC units: centralized systems and decentralized systems.
Centralized HVAC Systems: The simplest way to describe a centralized HVAC system for a multifamily property is that it's like a single-family home's heating and cooling system. Since centralized HVAC systems cost more, you're more likely to see them in high-rise and mid-rise properties with many individual units.
Decentralized HVAC Units: These types of cooling units are compartmentalized, meaning each unit is treated as a separate building from the rest of the units. Separate cooling systems deliver desired air to individual units, as opposed to a centralized system working hard from a central location in the building.
Here is the most common centralized system that we've seen implemented in multi-family projects in the last years:
Multi-head/Mini VRF System

: Multi-Split systems consist of multiple indoor units connected to a single outdoor unit.
Here are the two most common decentralized systems that we've seen implemented in multi-family projects in the last years:
Magic-Pak System

: Magic-Pak is a Vertical Terminal Air Conditioner (VTAC). This is a packaged system and needs to be installed inside a closet.

Split AHU System

: Split ducted air conditioning systems are one of the most common types of air conditioners. One indoor unit is connected to one outdoor unit.
Ventilate Your Multifamily Project
There are different ways to ventilate, providing "Fresh Air" to residential buildings. Three competing design options can be implemented in residential design: natural ventilation, mechanical ventilation, and a hybrid approach. Depending on the geographical location and overall design and style of the multifamily building, each of these ventilation options can create an ideal living environment for occupants.
BASE4 | Your MEP Experts!
Choosing the correct HVAC systems for your multifamily development will be determined by several factors, including installation costs, maintenance costs, energy efficiency, and the size of the property. That is why BASE4 is here to help.
Stay tuned for more on HVAC systems over the next two weeks:
Part 2: HVAC for Multifamily Developments
Part 3: Indoor Air-Quality Solutions for Multifamily Projects
Check out STONEPILEllc—The Online Construction College, the only institution of higher education dedicated 100% to construction innovation and education.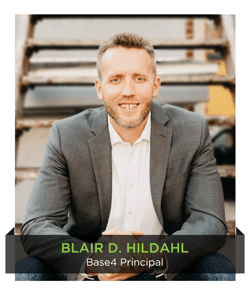 Thank you,
Blair Hildahl
BASE4 Principal
608.304.5228
BlairH@base-4.com