Reading Time:
3
minutes
The residential industry accounts for one-fifth of America's energy consumption with the largest part of that consumption going toward the project's heating. Most buildings run on multiple fuels such as natural gas or propane to power furnaces, boilers, and water heaters. What if the project's heating could be done with a more efficient and economical option than gas! Electric heating is that option! Read on!
Full electrification is typically the cheaper option in new buildings. Builders avoid the cost of installing natural-gas lines and meters, and improved energy efficiency can keep rising electricity bills in check.
What Is Electrification?
Electrification is the process of powering by electricity and—in many contexts—the introduction of such power by changing over from an earlier power source.
For residential buildings, proposed electrification strategies for heating include:
Replacing gas furnaces with air source heat pumps or ground source heat pumps
Replacing gas water heaters with heat pump water heaters
Replacing gas ranges with induction or conventional electric ranges
Replacing gas dryers with electric counterparts (conventional or heat pump)
The Benefits of Electrification
Electrifying U.S. households will dramatically reduce carbon pollution, increase savings, create millions of good-paying jobs, and secure a better, more equitable future for all communities.
Currently in states like California energy regulators approved energy efficiency standards aimed at vastly expanding the use of electric appliances for space and water heating in new developments.
It is worth pointing out that the current electrical grids in the U.S. cannot handle the power demand of moving everyone to electric options until the electric infrastructure is updated to support this move.
BASE4 | Your MEP Experts!
Having a team ready to answer questions is vital to harness your energy-saving ideas. BASE4 is here to help! Our team members are experts in design, having design experience in every state—ensuring quality and speed-to-market. We are architects & engineers rethinking the way buildings get built!
Check out STONEPILEllc—The Online Construction College, the only institution of higher education dedicated 100% to construction innovation and education.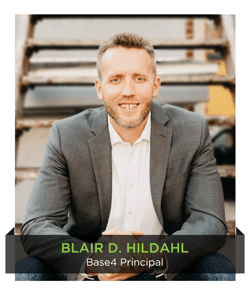 Thank you,
Blair Hildahl
BASE4 Principal
608.304.5228
BlairH@base-4.com


Source:
1. https://nahbnow.com/2021/03/how-much-does-whole-home-electrification-cost/#:~:text=For%20residential%20buildings%2C%20proposed%20electrification,
with%20heat%20pump%20water%20heaters%3B&text=Replacing%20gas%20dryers
%20with%20electric%20counterparts%20(conventional%20or%20heat%20pump).