Reading Time:
4
minutes
Offsite construction is a timely solution for multifamily developers. Last week I showed you how Volumetric Modular Construction could work for your next multifamily project. As a continuation of this series, today we look at how a bathroom pod can solve multiple problems. Modular bathrooms are becoming increasingly popular with architects, developers, and builders for use in a wide range of both large and small building projects.
SurePod Factory View
What is a Bathroom Pod?
A bathroom pod is a factory-made bathroom unit that comes complete and ready to install. It is fully fitted with all MEP hookups and fixtures and delivered to the construction site. The only task to be performed on-site is connecting the pods to the main installation shafts. It is considered a prefabricated product.
Pods are usually non-structural and used within a loadbearing structure.
The enclosure can be of a steel frame, timber frame, concrete, or composite constructions.
Modular bathrooms include a wide range of customizable styles, features, and options that allow you to create a bathroom to suit your individual needs and sense of style.
SurePod Factory View
The Benefits of Adding One to Your Next Multifamily
Bathrooms can be the most frustrating part of any build, where you have a lot of small spaces and many people working in sequence in a short amount of time. The bathroom pod eliminates this congestion.
Here are some other benefits:
Pods are quick and easy to install. Using bathroom pods lowers construction costs by reducing construction time, improving quality, and eliminating the bathroom defects list.
Bathrooms are ideal for prefabrication, being relatively small and self-contained units. Additionally, sanitary and service providers are expensive.
Factory manufacturing is inherently less wasteful than traditional forms of construction.
Fewer deliveries to site and reduced noise, dust, and disruption: With less construction disruption, work on-site is safer, quieter, and cleaner.
Steel-framed pods allow traditional tiled interior finishes and a higher level of design flexibility.
Superior quality is considered a key item when assembling a pod. Because it's built in a factory, there is a higher quality control of the materials used.
Below are some images of factory-built bathroom pods from SurePods.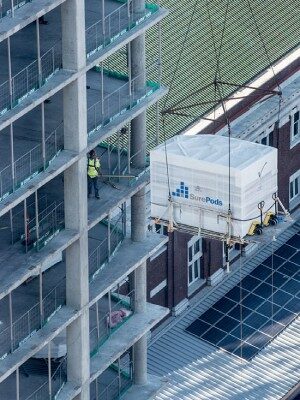 Highlights of a Bathroom Pod
Developers, contractors, and even inspectors all benefit from the use of bathroom pods since they are constructed offsite in a controlled environment and built to strict industry standards that are nearly impossible to recreate on the site.
You might be wondering why it took so long for developers to use pods in construction since they have been on the market for a while. The answer is initial hard costs and fear. Bathroom pods require more upfront cost, and in the end, developers fear doing something new.
When looking at the bigger picture of ROI, the faster schedules make up for the difference of the initial hard costs. Quicker openings also reduce construction loan interest and give more profit from an earlier grand opening.
BASE4 can guide you through your Bathroom Pod design and installation process. Don't hesitate to contact me with any questions you may have about these factory-made bathroom units. Next week, I will discuss the use of panelization walls and floors. Stay tuned!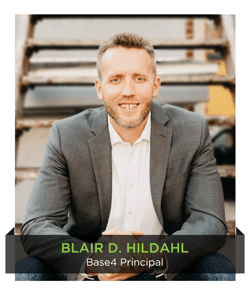 Thank you,
Blair Hildahl
BASE4 Principal
608.304.5228
BlairH@base-4.com


Source: