Reading Time:
4
minutes
Don't we all want to learn how to keep tenant noise complaints to a minimum? Today's Part 2 of Keeping Apartments Quiet will show you how!
Wall Composition to Reduce Noise Pollution
Sound waves travel through walls, infiltrating the adjacent rooms. Wall composition is critical to absorb sound and dampen the volume heard on the other side. Sound Transmission Class (STC) indicates a material's capacity to block sound from passing through different wall assemblies.
Several items affect a wall's STC performance, and below we'll take a look at some of the most common:
Construction Material
To start, we'll take a look at three of the most common building materials for wall assemblies; wood, cold-formed steel and masonry to give a baseline for performance between different materials.
Drywall Layers
Let's look at a common wood wall and see how drywall increases performance.
Multiple drywall layers plus fiberglass insulation make great sound absorbers and remains the simplest and most cost-effective solution for achieving basic STC requirements.
Resilient Channel
Another common way to increase STC performance is to add resilient channel, also called RC or Z channel. Notice how this strategy can greatly increase the wall's STC rating.
Adding Air Space
The most effective way of providing a higher STC rating is to disrupt or disconnect the path of sound transmission. The more the air gap separates the materials, the better.
In traditional stud framing, it's typically done by either alternating the studs on a larger sill and top plates (Good) or building a double wall system with a complete air gap from subfloor to subfloor (Best). See this graphic below:
As outlined in some of our other newsletters, modular construction has a great advantage with sound ratings as the walls and floor between modular units are automatically separated and insulated, providing a superior STC rating. For information check out An Economical (and Better) Way to Block Noise.
You have many decisions to make to ensure happy tenants, and we can help you figure out the right combination!
Stay tuned for next week when we conclude this 3-part series of How to Keep Apartment Units Quiet with tips to make units quieter. Also, check out STONEPILE llc—The Online Construction College, where students excel in all the latest IC technologies, building toward the future.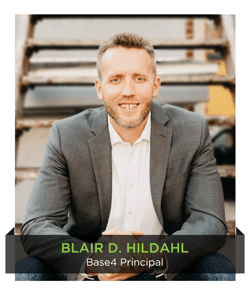 Thank you,
Blair Hildahl
BASE4 Principal
608.304.5228
BlairH@base-4.com


Source: