Reading Time:
5
minutes
The U.S. has a severe housing shortage due to home prices and rents soaring nationwide. Home prices have increased more than 30% over the past couple of years, making homeownership impossible for millions of Americans. So why is this happening, and what can developers do about it?
Why is this happening?
According to the Freddie Mac Multifamily Midyear Outlook, inflation and volatile Treasury rates are among the significant matters pushing against multifamily growth. Currently, the sector is producing 3.8 million fewer housing units than the nationwide demand. In addition, according to the NAHB, in 2021, more than 90% of builders reported delays and materials shortages. These materials delays make scheduling projects inconsistent, which makes it hard to retain workers.
According to the Bureau of Labor Statistics, the prices of goods used in residential construction have climbed 4.9% since the start of 2022.
Other reasons for the housing shortage vary across states and cities. Some areas aren't building enough while others don't have proper zoning allowing for faster production. In addition, a reduced workforce has aggravated the housing shortage; the labor supply has fallen short by up to 400,000 jobs nationwide per month.
So, what are the solutions?
Though the outlook has been challenging, there are some solutions!
Drop in Material Prices – While material prices are still high, we are beginning to see some relief in some areas of the industry. The Bureau of Labor Statistics (BLS) reported that consumer prices dropped slightly to an annual rate of 8.5% in July from a 40-year high of 9.1% in June.
New Technology/Systems – As new players (especially those in the offsite space) come into the construction sector, there will be opportunities for efficiency gains with new processes. Developers and general contractors are rethinking traditional building methods by infusing innovative technology, forward-thinking design, and offsite manufacturing principles.
Increased Public Subsidies – Nearly every city in America needs new housing, quickly becoming a headline issue for many public officials. As cities try to tackle this problem, you will see increasing development incentives in the form of tax credits and rebates. In addition, there are plans to reward jurisdictions that have reformed zoning and land-use policies.
The material reprices cannot be controlled, but you can utilize prefab to avoid the labor shortages onsite, work around schedule delays, and save time! You can rethink traditional building methods by exploring all material and construction types and focusing on building in development-friendly jurisdictions. Many construction companies are unaware that the government offers generous research and development incentive programs.
We know we are in volatile times, where supply chain issues and labor shortages are frustrating. Building materials costs have changed constantly, and rates keep increasing. Still, the market needs you to build!
BASE4 is here to help!
We focus on Cheaper and Faster Construction through design! Our team works with developers and general contractors to rethink traditional building methods by infusing innovative technology, forward-thinking design, and offsite manufacturing principles to build projects CHEAPER and FASTER!
We at BASE4 believe in a PRODUCT mindset—bringing standardization and manufacturing principles to an outdated system.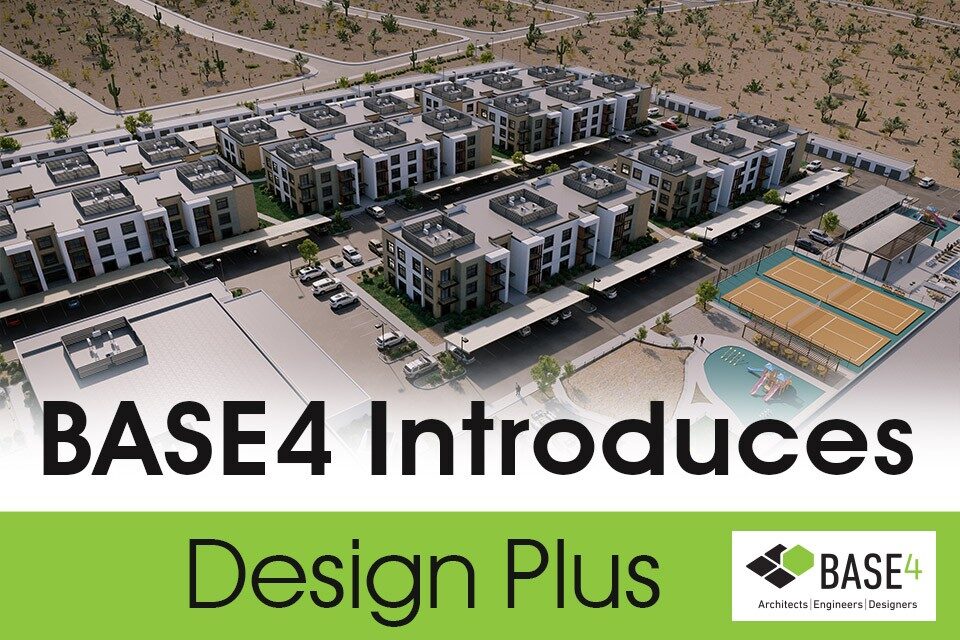 We perform all services in-house, including architecture, structural engineering, MEP engineering, interior design, 3D BIM visualization, and construction administration.
With the product-centered approach, we continually optimize the build process, building faster, cheaper, and more efficiently.
The BASE4 team has worked around the globe, providing a wide range of expertise in quality standards, specifications, and international best practices for design.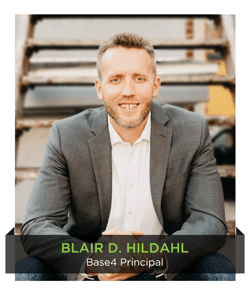 Thank you,
Blair Hildahl
BASE4 Principal
608.304.5228
BlairH@base-4.com