Reading Time:
4
minutes
The significant labor shortage currently happening is the major pain point affecting home costs and production in construction. The construction sector has lost more than 1 million workers, and almost all areas of the construction industry are experiencing project delays due to skilled labor shortages. Labor shortage equals longer project schedules and higher project costs. Here is what you can do.
No labor equals a higher cost to build!
According to a survey for the NAHB/Wells Fargo Housing Market Index, more than 55% of single-family builders reported a shortage of labor across 16 home-building trades, with the greatest shortage noted among carpentry trades. See below:
The labor shortage reveals the pervasive issue of inefficiency in the construction industry. To battle the current labor shortages, job sites must adopt more efficient processes. Technology is vital to streamlining construction.
Improve Schedules & Budget with Prefab
With multiple benefits, prefabrication is becoming increasingly popular with more developers considering offsite construction techniques. The construction industry is currently using technology and innovation to handle this disruption that is the labor shortage.
Positive outcomes from prefabrication:
Improved productivity, quality, and cost predictability
Increased schedule certainty and client satisfaction
Reduced construction waste1
BASE4 | Prefab Experts
We have the expertise, technology, and processes to guide clients through every stage of their project—anywhere they are. Our team works with developers and general contractors to rethink traditional building methods by infusing innovative technology, forward-thinking design, and offsite manufacturing principles to build projects CHEAPER and FASTER!
Attracting New Talent to the Field with Higher Education
While technology makes the construction site more efficient, we must continue to look ahead to the needs of this expanding industry. No matter how efficient we get, we still need more skilled workers. Attracting skilled professionals will remain a key point for construction firms in the coming quarters. This might become more of a challenge due to the labor market strengthening and the unemployment rate declining.
To attract new talent to the field, we have to talk about higher education.
Did you know: With STONEPILEllc's innovative online construction training, motivated individuals can get the skills, experience, and credentials to launch a lucrative career, without putting their entire life on hold.
STONEPILEllc is an online higher education institution and the only online construction college that teaches all the professional scopes between trade schools and construction management programs. Visit their website for more information at https://stonepile.us/.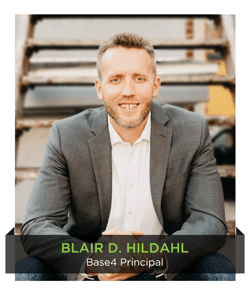 Thank you,
Blair Hildahl
BASE4 Principal
608.304.5228
BlairH@base-4.com