Reading Time:
3
minutes
The construction industry—despite technological advancements—is still largely fragmented and struggles with a shortage in skilled labor and productivity. The industry is having a hard time building at a price point that makes sense for developers who want to meet the demand for equitable and accessible construction development. Cost is arguably the strongest factor of the construction process.
Industrialized Construction (IC) combines the best of prefabrication, automation, AI, factory robotics, and DfMA. With these construction processes, you'll have fewer delays and headaches due to the insufficient labor force, inclement weather, and hard-to-coordinate sub-contractors. The adoption of industrial, prefabricated, and manufacturing techniques is an emerging way to realize the efficiency gains so elusive in architecture, engineering, and construction.
The goal of industrialized construction is to reinvent how we build–and shatter the stagnant processes of the antiquated construction industry.
One of the areas where technology can have a real impact is in the industry's ability to meet the country's massive demand for low-cost housing through pre-manufacturing units with flexible options and designs.
Construction Technology
The advantages:
Lower building costs
Better quality control
Faster and more reliable scheduling
Less material waste
Safer working conditions
IC can shorten the construction process since it is much less labor-intensive. Reducing schedule duration through repetition leads to lower construction costs. It prevents delays on a construction project and can shorten the duration of each task involved, helping to ensure adherence to the project completion date. Adopting IC methods can result in cost savings, increased profitability, waste reduction, error and delay prevention through automation, and faster intervention in construction issues.
*Picture courtesy of Z Modular
BASE4 | Helping Developers Build Faster
We at BASE4 believe in a PRODUCT mindset—bringing standardization and manufacturing principles. Our team works with developers, general contractors, and manufactures to rethink traditional building methods by infusing innovative technology, forward-thinking design, and offsite manufacturing principles to build projects CHEAPER and FASTER!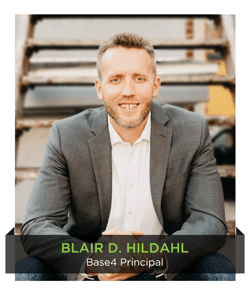 Thank you,
Blair Hildahl
BASE4 Principal
608.304.5228
BlairH@base-4.com