Reading Time:
4
minutes
The real estate market has changed during this past year, and the current trend in the Multifamily Market is the demand for larger units. For several years, apartments were shrinking in size, partly because smaller units are more profitable for property owners; we wrote about this in our Sizing your Apartments article. Now, developers around the U.S. are building larger units to meet the need.
Apartment developers are building markedly bigger units as the multifamily building industry adapts to changing post-pandemic renter preferences.
After a decade of shrinking apartments, an online survey by RentCafe states that in 36% of the 92 cities that they analyzed, renters are set to receive the extra space they are currently building larger apartments than before, with most of them upsizing to a 2-bedroom apartment.
There are cities that have a sudden demand for larger apartments to address the new reality we're living in, following a long-standing trend of building smaller apartments.
Yardi Matrix data reports that the upsizing trend is linked to how renters' priorities have shifted because of the pandemic. Specifically, these larger apartments increased by nearly 50 sq. ft., on average. Three-bedroom apartments are expanding in size by adding a massive 105 sq. ft. to its average size.
The main reason for the increase in sq. ft is the need for a small home office, a bathroom, or some other type of living space that can provide a lifestyle upgrade for renters to spend more time at home.
There's a "residential recalibration" from urban areas to more suburban locales, where residents can find larger accommodations and quality community amenities and outdoor spaces.
BASE4 | Your Multifamily Partner
Here at BASE4, we stay up to date on the latest trends helping developers rethink the way buildings get built. We are currently working on a modular development in Midland, TX, which perfectly balances tenant demands and profitability.
You need design partners who understand how to create an efficient and high-quality living space. With experience all over the country, our designers work with these goals in mind:
Giving you diverse floor plan options to find the perfect balance for your next multifamily space.
Designing apartments with affordable construction options using industrialized construction methods.
Suggesting the right prefab methods for flexibility and speed-to-market
Check out STONEPILEllc—The Online Construction College, the only institution of higher education dedicated 100% to construction innovation and education.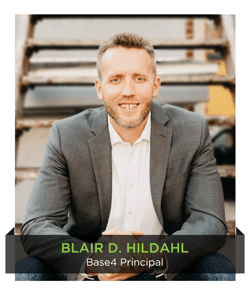 Thank you,
Blair Hildahl
BASE4 Principal
608.304.5228
BlairH@base-4.com