Reading Time:
4
minutes
Today we expand on the previous article about HVAC systems and discuss the pros and cons of the three most common ones for multifamily developments. Knowing which system to install can be confusing, so let's answer some of your questions.
It is important to choose the right HVAC system for your project. Picking the wrong HVAC system for your apartment building can lead to issues during construction, increase your overall budget, or cause maintenance problems down the line.
The HVAC system you select for your multifamily development will affect your budget significantly, especially with its installation.
HVAC Systems Pros and Cons
Remember that the type of HVAC system that you choose for your project can depend largely on overall cost, which comprises equipment cost and installment cost. HVAC installation costs will change depending on a few factors that are specific to your project and its location—local climate conditions and HVAC unit features such as size, brand, and energy efficiency (SEER).
Here are the pros and cons of the three systems that we mention in part 1 of Multifamily Developments HVAC Systems.
Multi-head/Mini VRF System
Pros:
---
No ductwork required
Multiple indoor units can be connected to one single unit
Individual indoor units can have a separate thermostat and can be controlled individually
Quiet operation
Easy installation
Cons:
---
High initial cost
Natural ventilation is required
---
Magic-Pak System
Pros:
---
Ability to provide dehumidified outside air for ventilation
Capable of controlling the temperature in multiple rooms and large areas
Low operating sound level
Low installation, operating, and life cycle costs
Avoids condensers on roofs and grounds
Cons:
---
Additional cost required for ductwork and air terminal
Needs a closet or enclosed space on the exterior side for unit placement and unit heat dissipation
Exterior louvers are required. This could affect the elevation
Ceiling is required to conceal ductwork
---
Split AHU System
Pros:
---
Usually high SEER/EER*
The system allows which zone to cool
Equipment installed in enclosed space
An unnoticeable and quieter system that runs through ductwork
Cons:
---
Larger and complex to install
More expensive to install
Additional cost required for ductwork and air terminal
The ceiling is required to conceal ductwork
*SEER = Seasonal Energy Efficiency Ratio
*EER = Energy Efficiency Ratio
---
HVAC stands for heating, ventilation, and air conditioning. When choosing the best option for your project, it usually comes down to cost and energy efficiency. Still, making sure your multifamily developments have proper ventilation is also crucial for the performance of the HVAC system. Tune in next week as we touch base on Indoor Air-Quality Solutions for Multifamily Projects.
BASE4 | Your MEP Experts!
We know that understanding and choosing the best HVAC system for the multifamily project can be challenging, that is why BASE4 is here to help. With decades of experience, our expert team evaluates the unique location and other factors to determine the best HVAC system for your project.
Check out STONEPILEllc—The Online Construction College, the only institution of higher education dedicated 100% to construction innovation and education.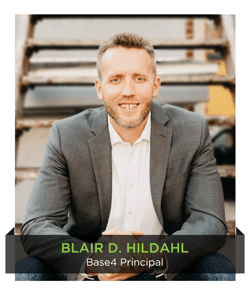 Thank you,
Blair Hildahl
BASE4 Principal
608.304.5228
BlairH@base-4.com