Reading Time:
3
minutes
The multifamily industry is experiencing record-breaking rent growth and occupancy rates. We've noticed increasing building activity in the multifamily sector. Here is what is coming for 2022.
According to new data from the U.S. Department of Housing and Urban Development and the U.S. Census Bureau, multifamily housing construction helped push overall housing starts up 3.9% in August to a seasonally adjusted annual rate of 1.62 million units.
According to data from the U.S. Census Bureau, 491,781 permits for multifamily construction were issued in 2020, a 139% increase over 2011. The areas with a high population density had the highest number of permits.
Multifamily Permits Issued for All 384 Metropolitan Statistical Areas Between 2011-2020
The dark color indicates the highest number of total multifamily permits issued while the lightest color shows the lowest number of multifamily permits issued.
The 2021 U.S. Multifamily Investment Outlook states that many people prioritized space and privacy after experiencing quarantine. Tenants are looking for units that offer flexible space that meets the needs of both living and working from home. Multifamily amenities are gaining popularity, and technology is at the center of new amenities since the pandemic. It's time for developers to take advantage of this market trend.
Multifamily Is Booming — Is Modular the Answer?
The housing crisis is not slowing down, and developers continue…
Multifamily developers are noticing that traditional build is too slow and unreliable right now. Modular is the way to go, and BASE4 is here to help!
BASE4 Multifamily Experts
You need design partners who understand how to create an efficient and high-quality living space with affordable construction options and experience all over the country. Our designers will help you achieve your project's goals. We help developers, general contractors, and factories find better and cheaper ways to build through innovative technology, forward-thinking design, and offsite manufacturing.
Check out STONEPILEllc—The Online Construction College, the only institution of higher education dedicated 100% to construction innovation and education.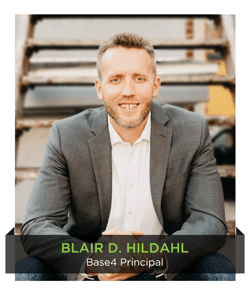 Thank you,
Blair Hildahl
BASE4 Principal
608.304.5228
BlairH@base-4.com


Source
1. https://nahbnow.com/2021/10/which-housing-markets-are-growing-the-fastest/