Reading Time:
4
minutes
The high demand for multifamily buildings right now coincides with rising construction costs. What are some ways developers can mitigate the high cost of building? The answer might be in smartly sizing your units!
Developers want to build a great building with lots of amenities and large units, but at a certain point, all that extra space results in diminishing returns. According to the US Census and Yardi Matrix, there is a wide discrepancy in apartment space-per-person depending on location.

What are the Current Trends in the Multifamily Market?
Even with the discrepancies in apartment size demands, there are some trends in the market.
Micro-Apartments: Micro-apartments are housing units that are smaller than the typical studio apartment, generally measuring about 200 to 400 square feet. These smaller units are popular in urban areas like Manhattan, Chicago, and some cities in California.
Privacy and Flex Space: Catalyzed by a greater interest in health and safety, many renters are on the lookout for one- and two-bedroom living options. Recent research shows that multifamily owners in less dense areas want larger floorplans to create flex spaces to accommodate working and schooling from home.
So, how can developers choose the best size for their units?
Regardless of location, to maximize profitability, developers need to consider building efficiency. If you have a 100,000 sqft multifamily building with 70,000 as rentable unit space, you have 70% efficiency. The more efficient your building, the more your property can earn in leasing.
Below are examples from a wide range of floorplan options that can be used to create the optimal design of your next multifamily building.
Of course, unit size isn't the only thing to consider. The efficiency of your overall floor plans (e.g., Rentable vs. Total sqft.) can make even a great unit plan highly inefficient—but more on that next week!
How BASE4 Can Help
You need design partners who understand how to create an efficient and high-quality living space. With experience all over the country, our designers work with these goals in mind:
Giving you diverse floor plan options to find the perfect balance for your next multifamily space.
Designing apartments with affordable construction options using industrialized construction methods
Suggesting the right prefab methods for flexibility and speed-to-market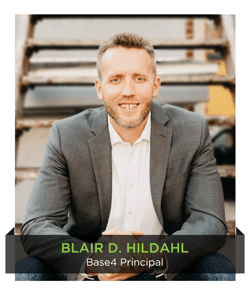 Thank you,
Blair Hildahl
BASE4 Principal
608.304.5228
BlairH@base-4.com