Reading Time:
4
minutes
If you are building a multifamily development, you might wonder which HVAC system you should use. The selection of an HVAC system is essential, not only because it can impact day-to-day climate comfort but also because it's often one of the biggest items on a project's budget. Read on if you need help deciding which HVAC system is right for you!
Here are the most common HVAC systems we see in multifamily projects:
VTAC System: A Vertical Terminal Air Conditioner are packaged systems that must be installed inside a closet.
Multi-Head/Mini VRF System: Multi-Split systems consist of multiple indoor units connected to a single outdoor unit.
Split AHU System: Split ducted air conditioning systems are among the most common air conditioners. One indoor unit is connected to one outdoor unit.
Understanding the differences between the different types of HVAC systems is the key to choosing the right one for your project.
VTAC System
Benefits:
---
Installation:
• Easy to install. Installation is possible from any interior side (front, right or left) and does not require skilled labor.
• No outdoor units and refrigerant lines, as the units are self-contained.
• Units are hidden out of view.
Maintenance:
• Easy to maintain and replace parts as the units are installed in a closet.
Drawbacks:
---
Space Requirement:
• Additional space for a closet is required within the dwelling unit, which reduces the usable floor area.
Placement:
• Units must be placed with a louver on an exterior wall. This might affect the building elevations.
Ductwork:
• Additional ductwork and grilles are required for the VTAC systems that serve multiple zones.
---
Mini-VRF Conditioning System
Benefits:
---
Outdoor Unit:
• The multi-split system connects multiple indoor units to one outdoor unit
• The system saves space and is more aesthetically pleasing to the site due to fewer outdoor visible units.
Zone Controlling:
• Ability to control each indoor unit independently.
Space Requirement:
• Indoor units can be wall-mounted or ceiling concealed, so no additional floor space is required.
High Efficiency and Low Operating Cost:
• Multi-split systems are designed to provide precisely the amount of heating or cooling needed for the current conditions of an area, so it runs less often and at a lower capacity.
Drawbacks:
---
Cost: 
• Typically, the installation cost is higher than other air-conditioning systems.
Skilled Labor Required:
• Qualified refrigeration mechanic is required for installation.
---
Split Dx AHU System
Benefits:
---
Easy Installation
• Installation is easy. AHU can be either floor-mounted or ceiling suspended.
Easy Maintenance: 
• Simple in design and easy to maintain.
Market Availability:
• Being a traditional system, various manufacturers are available in the market.
Drawbacks:
---
Zone Controlling: 
• Zoning control is less flexible.
• Simultaneous heating and cooling cannot be performed.
Ductwork: 
• Additional ductwork and grilles are required for AHU serving multiple zones.
Over-Cooling:
• Systems are typically sized and selected on peak loads; this may cause overcooling in a few zones due to constant airflow.
---
Remember that the type of HVAC system you choose for your project will also influence construction cost and energy efficiency.
BASE4 | Your MEP Experts!
We know that understanding and choosing the best HVAC system for your project can be challenging, and that is why BASE4 is here to help. With decades of experience, our expert team evaluates the unique location and other factors to determine the best HVAC system for your project.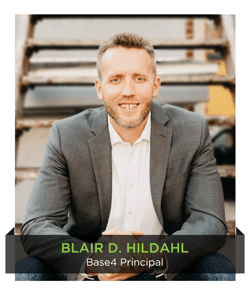 Thank you,
Blair Hildahl
BASE4 Principal
608.304.5228
BlairH@base-4.com