Reading Time:
3
minutes
12 Children. Four Countries. Two Capitalists. One Story.
Discounted for You only this Week on
Other booksellers and more information can be found at our website.
Get Money Do Good explores capitalism at its finest while confronting the issues of orphan advocacy, autism, human trafficking, and conventional methods of "doing good." Spanning the past decade of BASE4's explosive growth, this brutally honest memoir follows Drs. Garry (BASE4's CEO) and Jodi Vermaas (BASE4's CLO) as they traveled the globe and embraced a deeply felt responsibility to do the most good possible. Having a son with autism spurred them to rescue 11 more children out of slavery, isolation, and sexual exploitation.
This delightful book is must reading for successful business people who wonder if they are 'giving enough back' to the world. It contains a ton of inspiration (and oodles of love).
~ James O'Toole
Best-selling author of The Enlightened Capitalists
From Southern India, across China, and to the Philippines, they endured government opposition, financial ruin, broken bones, and children who—they were told—might never love them back. Face-to-face with fierce opposition, wild success, and unthinkable heartbreak, this action-packed memoir illustrates a life of relentless leadership while opening your eyes to the possibility of changing the world one messy story at a time.
It is a rare and wonderful experience to read a book that discloses the highly personal, highly candid inner family life of relentless change-makers seeking persistently to find their life's purpose.
~ Robert D. Lupton, PhD
Veteran urban activist and author of the revolutionary Toxic Charity
If you'd like to know more about BASE4 or Stonepile, reach out!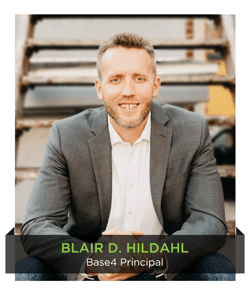 Thank you,
Blair Hildahl
BASE4 Principal
608.304.5228
BlairH@base-4.com