Reading Time:
3
minutes
When you think "prefab," you often think of prefabricated parts like walls and trusses. Prefabricated bathrooms offer a more developed solution that can increase your speed-to-market.
A bathroom pod is a factory-made bathroom unit that comes pre-installed with mechanical, electrical, plumbing, and HVAC. Once manufactured, it is shipped to an end construction site, ready to use.
Prefabricated bathroom pods come fully fitted with all fixtures, such as sinks, fans, faucets, and fittings, and are an excellent solution for both the hospitality and multifamily industries.
Prefabricated bathroom pods are fully functional bathrooms—the essential difference is that they are built offsite rather than on a traditional building site.
What Are the Benefits of Bathroom Pods?
PURCHASING PROCESS- A developer purchases complete bathroom pods in bulk. The bathrooms are designed and engineered once by a team of experts.
SHORTER COMPLETION TIME- Prefabrication can happen in parallel to building construction. Once shipped, units are quickly installed and easily connected to building infrastructure.
QUALITY CONTROL- Higher quality is delivered—thanks to a controlled factory environment.
LABOR- Bathroom manufacturers keep consistent staff on hand at all times who are familiar with the process.
DESIGN- A developer has the possibility of pre-manufacturing a prototype of the bathroom pod for the client's review before the final order.
SUSTAINABILITY- Modular construction creates less waste on-site. Therefore, prefabricated bathrooms are more sustainable and environmentally friendly than traditionally built.
When comparing the costs of prefabricated bathrooms with traditional builds, it's essential to factor in the FF&E specifications, installation charges, material delivery costs, and local labor affordability. BASE4 is here to help you! If you are interested in Bathroom Pods and have a manufacturing company in mind, we can guide you through the Bathroom Pod design and installation processes. Choosing the right designer and the general contractor is vital to making modular pods work for you.
Check out STONEPILEllc—The Online Construction College, the only institution of higher education dedicated 100% to construction innovation and education.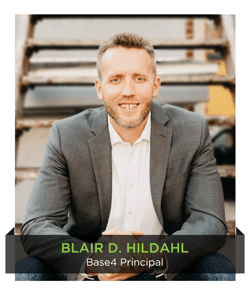 Thank you,
Blair Hildahl
BASE4 Principal
608.304.5228
BlairH@base-4.com