Reading Time:
4
minutes
The pandemic slowed sawmill production, supply chains, and factory operations, causing a shortage of construction materials in the United Stated. Now, with the reopening of the economy, builders have returned to the job site following months of lockdown to encounter an alarming materials shortage. What can be done about this?
Shortages of materials are now more widespread since the NAHB began tracking the issue in the 1990s. Precisely 90% of builders said that there was a shortage of plywood, and nearly as many respondents (87%) said there was a shortage of windows and doors, according to a May 2021 survey for the NAHB/Wells Fargo Housing Market Index (HMI).
What Has Been the Response of the Industry?
The construction industry has looked for ways to improve the building process. Modular and prefabricated construction might just be the answer. The key to staying ahead of supply chain issues is to evaluate new materials and construction types. It's time to fast-track building construction.
Here at BASE4, we work with our clients to evaluate the best materials, vendors, and product options to accommodate the project budget and client expectations and consider the supply chain constraints and limitations. We are currently designing projects with wood, CFS, plank, steel, brick, concrete, SIPs, and other materials to ensure that material shortages/delays don't slow down projects. BASE4 is here to help!
Developers are trying to find safer and better ways to build!
With clear advantages in reducing labor and waste while increasing quality, efficiency, and predictability, Industrialized Construction (IC) is a game-changer!
We are helping developers across the country rethink the way buildings get built. Here at BASE4, we are working with developers to help them make the best decisions to improve their projects' schedules, budgets, and programs. We can help developers embrace modular technology and all kinds of prefabricated methods and products.
Check out STONEPILEllc—The Online Construction College, the only institution of higher education dedicated 100% to construction innovation and education.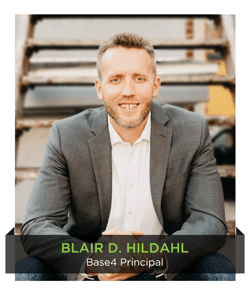 Thank you,
Blair Hildahl
BASE4 Principal
608.304.5228
BlairH@base-4.com


Source:
1. https://www.reuters.com/world/us/us-manufacturing-sector-picks-up-may-work-backlogs-rising-ism-2021-06-01/