Reading Time:
4
minutes
In the past few months, I have talked about modular and offsite construction. Still, when people think about "modular" construction, they imagine one of two things: man-camp temporary structures or multi-story stacked apartment and hotel projects.
The truth is that an offsite delivery method can be effective for nearly any type of building product depending on the overall project program, goals, and budget. The key to driving efficiency with Industrialized Construction (IC) is driving standardization—moving from a project to a product mindset.
Picture by Chick-fil-A
Today we want to highlight one major US retail chain that is harnessing the efficiency of IC!
The Chick-fil-A Story
Last month Chick-fil-A opened its first new restaurant built with its modular building program in Roswell, GA. For franchises like Chick-fil-A, construction schedules are critical when evaluating both replacing existing assets and building new ones. There is no revenue during construction, so the path to profitability is highly dependent on how quickly stores can be operational.
The biggest benefit of prefab methods is the reduction in building schedule. Prefabrication allows work to be done in parallel, unlike a traditional onsite schedule, which requires nearly all tasks to be done linearly. With Chick-fil-A's modular program, they can get their stores open faster and their employees back to work sooner.
See a comparison between traditional construction and IC below:
Listen to what Gregg Lollis Senior Director of Restaurant Design at Chick-fil-A has to say about it:
By incorporating modularized construction into our restaurant development programs, we anticipate that we will be able to reduce the construction time needed to rebuild existing restaurants by 6-10 weeks.
Take a look at how Chick-fil-A built with IC:
Video by Chick-fil-A
Chick-fil-A's 1-2-3 Building Process
1. Six separate volumetric modules were constructed offsite by Frey-Moss Structures in Conyers, GA, about 40 miles from the site. The modules included the restaurant's kitchen, drive-thru, serving area, office, and restrooms. The modules were built only 40 miles from the site.
Picture by QSR Magazine
2. Once completed, the modules were shipped to the site.
Picture by QSR Magazine
3. The individual units were set in place, saving 6 weeks off their traditional onsite built schedule.
Picture by QSR Magazine
The modular option gives us an advantage of starting these projects ahead of schedule before the existing restaurant even has to close its doors.

Since the pandemic, design goals have shifted. While Covid is Changing Apartment Design, the same is true for many fast-food restaurants. Dining rooms are shrinking while patios, drive-thru lanes, and curbside pickup locations are growing. Chick-fil-A's new design features a multi-lane drive-thru and canopies covering both the drive-thru and curbside pickup areas.
We love to see the innovation and look forward to seeing more great things from the Chick-fil-A team. If you are looking to imitate this kind of efficiency, don't hesitate to reach out.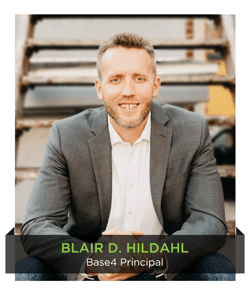 Thank you,
Blair Hildahl
BASE4 Principal
608.304.5228
BlairH@base-4.com