Reading Time:
4
minutes
Building materials costs have soared in the past few months, and so have equipment prices! Due to shortages prompted by pandemic-related supply chain issues, increased global demand, labor disruptions, and extreme weather, we continue to see an increase in construction costs. Here's an updated look at building materials prices.
According to the latest Producer Price Index (PPI) report, the prices of goods used in residential construction climbed 1.8% in May (not seasonally adjusted) and have increased 19.4% year-over-year.
The Bureau of Labor Statistics (BLS) released its producer price index report for May 2022. It stated that construction materials prices were up 1.1 percent in the month, seasonally adjusted. The index was 18.2 percent higher than its year-earlier level.
The fall in framing lumber prices in recent months is an indication that other materials are also likely to see prices flatten and drop as demand slows. Lumber is currently down 48% compared to one year ago.
Building Materials
The price index of residential construction was driven 0.4% lower in May by decreases in the building materials retail and wholesale trade indices. However, the services PPI is 8.3% higher than 12 months prior and 42.9% higher than its pre-pandemic level.
Freight Prices Push Construction Costs Higher
The price of truck transportation of freight increased 2.9% in May and has climbed 25.8% year-over-year.
Ocean freight transport prices have climbed 31.2% since March and 63.2% since the start of 2021.
Rail transportation services prices for freight increased 2.7% in May and increased 11.7% and 15.4% since May and January of 2021.
BASE4 is here to help!
We understand the market and are committed to helping developers and GCs navigate these tough times. We believe in a PRODUCT mindset—bringing standardization and manufacturing principles to the AEC industry. We help developers, general contractors, and factories find better and cheaper ways to build through innovative technology, forward-thinking design, and offsite manufacturing.
We know we are in volatile times, where supply chain issues and labor shortages are frustrating. Building materials costs have soared at a record pace, and rates keep increasing. Still, the market needs you to build!
We perform all services in-house, including architecture, structural engineering, MEP engineering, interior design, 3D BIM visualization, and construction administration. The BASE4 team has worked around the globe, providing a wide range of expertise in quality standards, specifications, and international best practices for design.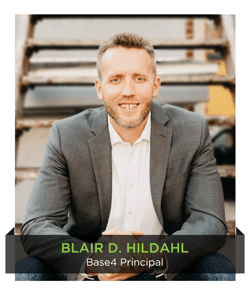 Thank you,
Blair Hildahl
BASE4 Principal
608.304.5228
BlairH@base-4.com