Reading Time:
4
minutes
Last week we spoke about elevators—if they were needed or not! Since projects often require elevators, today we are going to describe the different types.
Elevators are designed and fitted according to the building's population capacity and code requirements. In the past, most elevators had to be controlled through a centralized machine room. Today, most elevators don't need a machine room because new technology allows the machine to be within the shaft.
Each elevator type has its benefits, depending on your project's needs, such as available square footage, the number of floors, desired speed, and installment parameters.
Electric Traction (MRL*) elevators are the most common type of elevators. Elevator cars are pulled up using rolling steel ropes over a deeply grooved pulley, commonly called a sheave. They are used most often in mid- and high-rise buildings because of much higher travel speeds than hydraulic elevators. 
*MRL – Machine Room Less elevators have all the necessary machinery components fit within the shaft containing the elevator car, eliminating the need for an extra mechanical space.
Hydraulic elevators are used in 2- to 5- story buildings and travel at speeds up to 40 feet per minute. They require a pit and machine room, which increases time and cost. This traditional style elevator uses a piston that lifts the cab using a hydraulic system.
A Modular elevator is a turn-key, commercial-grade elevator. It comes with a prefabricated structural body containing a steel shaft (or hoistway), an elevator cab (i.e., car or carriage), controls, rails, and drive systems—all pre-wired. In other words, a modular elevator arrives fully assembled at the jobsite where it is to be installed.
Which One Is Right for Your Multifamily Project?
Electric Traction (MRL) and Hydraulic are the most common types of elevators chosen for low- and mid-rise buildings. Make sure you know which one is best for your particular project.
Electric Traction (MRL) are ideal for mid-rise buildings with a height of up to 250 feet. They are gaining popularity with mid-rise buildings because they conserve energy and require less room during construction.
Hydraulic elevators are used regularly, especially for low-rise buildings. They have a low upfront cost, and the maintenance expenses are not that high, in comparison with other types of elevators.
Here are the top elevator manufacturers we typically see in projects. Most of these manufacturers have options for both Electric Traction (MRL) and Hydraulic elevators:
Wondering which one to choose—stay tuned for next week when we discuss modular elevators.
Check out STONEPILEllc—The Online Construction College, the only institution of higher education dedicated 100% to construction innovation and education.
Don't miss a chance to attend Advancing Prefabrication 2021, a leadership conference dedicated to revolutionizing prefabrication and industrialized manufacturing approaches. Coming soon: June 15-17th, 2021.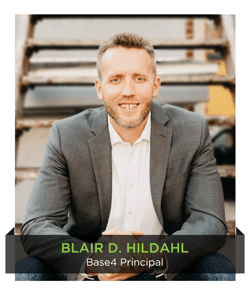 Thank you,
Blair Hildahl
BASE4 Principal
608.304.5228
BlairH@base-4.com


Source: