Reading Time:
3
minutes
Greetings to our Base4 Partners!
Today marks the beginning of a new three-part series about 5-story wood framed hotel construction.  We often get asked about 5-story wood framed hotel construction due to confusion regarding what is allowed by the code.  In this series, we attempt to address your concerns and questions.
Before we can dive directly into 5-story wood construction, we need to briefly understand how the International Building Code (IBC) classifies wood construction and corresponding restrictions, as follows:
IBC classifies traditional wood framed construction as Type V construction, under "Protected Wood Frame."  As such, the number of stories and height of building depend on the type of construction and group type, as shown in Table 503 below.  Because hotels belong to the R-1 group, the IBC table indicates a maximum of three stories for Type V- A.
In addition to this, Section 504.2 of the 2012 IBC allows you to take advantage of an automatic sprinkler system increase. This section permits an increase in the number of stories by one story- if we utilize an approved sprinkler system under NFPA. Since nearly all hotels have this type of sprinkler system, we can take advantage of this section and increase our maximum allowable stories to four. As a result, you never see wood framed hotels higher than four stories under Type V construction.
Finally and of key importance for developers and franchise owners, the code allows for ways to overcome these height restrictions, including the following code compliant options:

5-story wood framed hotel when utilizing Type III construction
5- or 6-story wood framed hotels utilizing podium construction
Both options are shown in a schematic graphic below.  Be looking for upcoming newsletters where we explore each of these options in more detail and explain the challenges and benefits of each.  Stay tuned!
Thank you,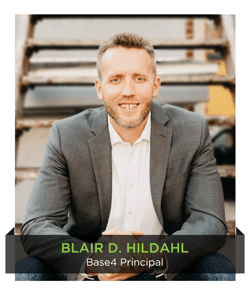 Blair Hildahl
Base4 Principal
608.304.5228