Reading Time:
5
minutes
As a developer, many things come to mind when coordinating a project, from the construction type to who will manage the project. With the current labor shortage and delays in construction, other critical items need to be considered. One prominent question is who will be the General Contractor (GC) on my project? Developers and builders are always looking to hire the right person to manage the construction of their projects. It's time to consider these things before hiring. Read on!
The GC is the individual or company that manages all aspects of the day-to-day activities at the jobsite. In addition, they oversee the building of the project.
A general contractor is a party responsible for overseeing a construction project and who enters into the prime contract with the property owner.
Ask These Questions Before Hiring Your GC:
Do they offer a list of references to a past client and past projects? If so, what is the response?
Do they have the right licenses and insurance information?
What are the names and reputations of sub-contractors (you may have to research these company's past work experience/reputation)?
How does their standard contract compare with what you want?
How good is the fit of your request for information (RFI) process among your subs, your team, the architecture, and the engineering team with the GC's process?
How is the fit of your Change Order process with the GC's process?
Does your GC team review ALL the drawings before construction and issue any RFIs or VE (value engineer) ideas? Or do you rely on your subs to do this?
Can you share some examples of items that you are typically able to VE (value engineer)?
Does your project manager (PM) personally review submittals and shop drawings, or do they send them off to the design professional?
How often does your PM re-evaluate the construction schedule based on weather, material delivery, and ordinary delays?
Do you have a dedicated document control manager?
What does your PM do to mitigate change orders? (Give three examples) Do they review drawings? Reviews subcontractor bids/contracts? Actively keep a drawing log?
Will your PM walk every inspection?
Does the GC uses BIM or 3D software to plan, prepare and evaluate the job?
How often are construction status reports with pictures and schedules?
Consider these Items:
Check their project experience. Find someone with considerable experience in the type of building you have (hospitality, multifamily, commercial).
Consult their previous clients. Look for useful stories and not-so-successful ones.
Review cost estimate thoroughly. Look for contractual clarity. Ensure there are no grey areas.
Ensure all you need is included in the contract. Nothing should be open for misinterpretation.
Ensure they have a versatile and knowledgeable list of subs.
Check their communication style. Experience with project management tools.
Finding out these answers ahead of time could save you money, time, and headaches!
BASE4 | Architects & Engineers Rethinking the Way Buildings Get Built
Conventional thinking only increases costs, schedules, and waste. "Business as usual" is no longer good enough. We help developers, general contractors, and factories find better ways to build through innovative technology, forward-thinking design, and offsite manufacturing.
Our team works with developers and general contractors to rethink traditional building methods by infusing innovative technology, forward-thinking design, and offsite manufacturing principles to build projects CHEAPER and FASTER!
We perform all services in-house, including architecture, structural engineering, MEP engineering, interior design, 3D BIM visualization, and construction administration. The BASE4 team has worked around the globe, providing a wide range of expertise in quality standards, specifications, and international best practices for design.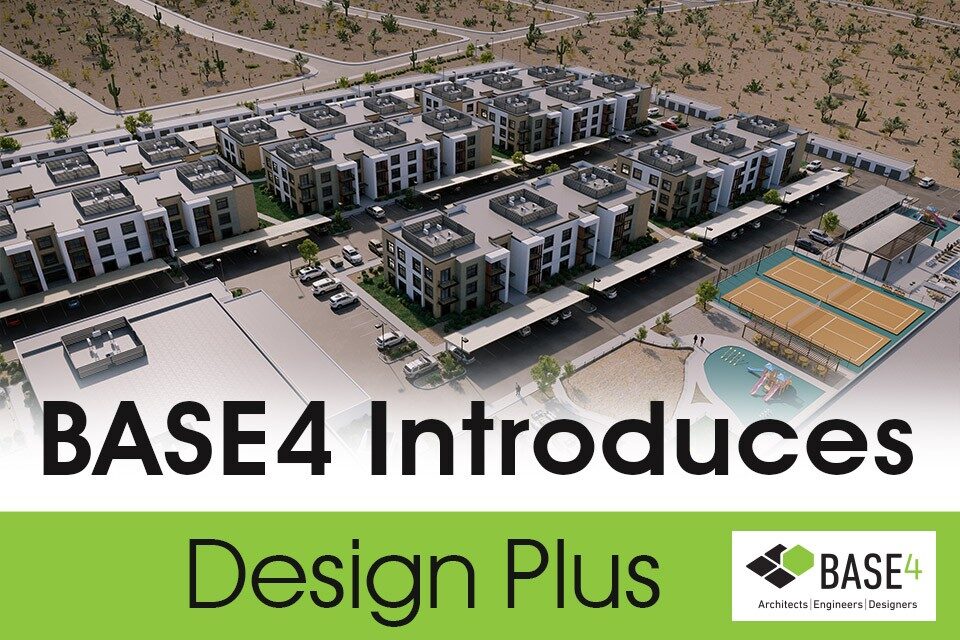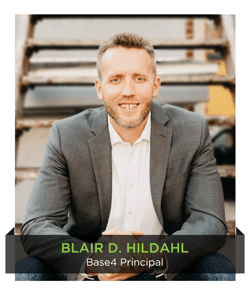 Thank you,
Blair Hildahl
BASE4 Principal
608.304.5228
BlairH@base-4.com