Reading Time:
4
minutes
One of the most prominent complaints tenants and hotel guests make is about noise in their rooms. Outdoor noise transfers into rooms by traveling through exterior building walls via any areas vulnerable to sound penetration. HVAC systems create noise, so choosing the right system can help reduce noise in your rooms, whether a hotel or an apartment building. Read on!
There are two areas to focus on when it comes to the HVAC system: Noise generated by the equipment in the room and noise that the equipment allows into the room.
Noise From the Equipment in The Room
HVAC equipment in the room can generate noise from several areas including compressors, fans, and moving air.
In general, moving the compressor component of a system out of the room (to the exterior of the building or the roof) will aid in reducing noise.
Noise That the Equipment Allows into The Room
The HVAC exterior grille on the room's exterior wall is considered a prominent vulnerable spot.
One significant benefit of VRF systems is the absence of an exterior grille.
Noise levels are measured and compared using the decibel (dBA) scale. A higher dBA corresponds to a higher noise level. The outdoor noise pollution transfers into the building by traveling through the exterior building wall via any areas vulnerable to sound penetration including the ones needed for the HVAC system.
There are different systems to choose from for your projects—VRF to VTAC and Split AHU systems.
Multi-head/Mini VRF System: Multi-Split systems consist of multiple indoor units connected to a single outdoor unit.
VTAC System: A Vertical Terminal Air Conditioner (including units like Magic-Pak) are packaged systems that need to be installed inside a closet.
Split AHU: Split ducted air conditioning systems are one of the most common types of air conditioners. One indoor unit is connected to one outdoor unit.
PTAC: Packaged Terminal Air Conditioners are ductless, through-the-wall heating and cooling system.
Interesting fact: In some hotels, such as Hyatt Place, the VTAC closet should have at least an STC rating of 50. This means that, in reality, the sound pressure level (SPL) perceived by the guests is probably in the range of 15 – 20dB (assuming minimal outside noise).
Remember that the type of HVAC system that you choose for your project will also influence construction cost and energy efficiency.
BASE4 | Your MEP Experts!
BASE4 is here to guide you on the correct choice for your project! Choosing the correct HVAC systems for your development will be determined by several factors, including installation costs, maintenance costs, energy efficiency, and the size of the property. That is why BASE4 is here to help. With decades of experience, our expert team evaluates the unique location and other factors to determine the best HVAC system for your project.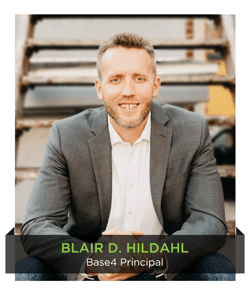 Thank you,
Blair Hildahl
BASE4 Principal
608.304.5228
BlairH@base-4.com