Reading Time:
4
minutes
Your apartment has great STC wall ratings, so why are you still getting lots of noise complaints from tenants?
The STC of a wall is only as good as its weakest link. Today in our 3-part series on Keeping Apartments Quiet, we'll highlight a few of the most common causes of hidden noise pollution and what you can do to fix them!
Flanking Noise
Flanking noises are the sounds traveling between rooms via indirect pathways. These sounds have found their way around or through the wall assembly, as shown below.
Here is a list of the most common sources of flanking noise:
Electrical Outlet & Light Switch Boxes
Outlets and switch boxes create holes in walls, resulting in one of the most problematic areas for sound transmission. Instead of layers of sound-insulating drywall, outlet areas only have a thin plastic barrier.
Here are two tips to address these areas.
Avoid installing electrical boxes on the same stud cavity creating a back-to-back condition, as shown in the graphic below.
Seal any gaps between electrical outlets and drywall with acoustic seal and putty pads.
Another offender is ductwork, which provides a direct path for air and sound travel. Here are a few quick tips to address these areas:
Avoid ductwork paths between areas where you'd like to separate noise. More specifically, longer and more complex and indirect ductwork (i.e., bends/turns in the ductwork) will improve sound performance.
Use Duct Liner. Most codes require insulated duct liners, which contain sound-absorbing material to reduce sound transfer within the ducts.
Use Soffits whenever possible. Soffits create a sound barrier of drywall between the noise source and the ductwork.
Structure Borne & Ceiling Joist Noise
There are two framing options for typical apartments: running joists perpendicular to the unit demising walls or running joists parallel to them. While this is typically a structurally related decision, it also has an impact on your sound-insulating ability between units.
With the latter method, joists from adjoining rooms do not share bearing points or blocking.  This means the structure-borne sound is controlled better between units.
Also, since unit demising walls are not bearing, they can continue all the way up to the floor above (instead of stopping at the truss/joist bearing height).
Similar to outlet boxes, the ceiling can lights create holes in your assembly and eliminate the drywall layer. Fortunately, proper design limits the effects of this noise, as follows:
Install ceiling cans in a soffit. While not always possible due to ceiling height requirements and RCPs, the soffits provide an opportunity for a layer of drywall above the can and maintain an effective sound barrier.
Utilize backer boxes. Although not always economically feasible, backer boxes create a sound-isolated box in which to mount the can and reduce sound transmission. See the below graphics for helpful details.
With this, we conclude our 3-part series on Keeping Apartments Quiet. Please don't hesitate to contact us if you have any questions about STC Ratings. Check out STONEPILE llc—The Online Construction College—our higher education solution for today's emerging construction leaders.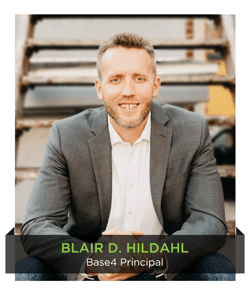 Thank you,
Blair Hildahl
BASE4 Principal
608.304.5228
BlairH@base-4.com