Reading Time:
3
minutes
How can you ensure that your upcoming senior living facility lives up to your expectations? Architectural visualization would be your first step. You probably know about high-quality, digitally created images and videos that portray a project. Today, I dive into the various types and advancements in the technology.
The Advancements
It is faster and more affordable than ever to envision a project prior to construction, thanks to giant technological leaps. Below are a few types of architectural visualizations that you can consider.
2D Renderings: This dated technology can show the front, rear, and side view of your senior living property with no perspective or advanced features, making it less realistic. AutoCAD is the most popular tool to produce 2D renderings.
3D Renderings: One of the more widely used and well-received, 3D renderings can show your property hyper-realistically with desired perspectives. Now faster and more affordable than ever, an early 3D Rendering of your project can save money, reduce schedules, and avoid unforeseen complications. These renderings show interiors and exteriors in painstaking detail and have extensive tools to get the best results. Revit is widely used to create 3D renderings. See below some of our work:
Animated Videos: Taking the still-image game up a notch, animated videos offer a virtual walkthrough and walkaround experience for a more thorough feel of the property. They may look like this:
Virtual Reality: This new kid on the block is grabbing all the attention. You can look around your senior living property in a virtual, simulated environment with the help of special VR headsets. Since they offer life-sized, 360-degree perspective of an unbuilt property, VR images and videos can dramatically improve project performance.
Spending for architectural visualization is an investment with long-term benefits. 3D, VR, and video visualizations can be great marketing assets post-construction. Adopting these advances from the outset of a project can save money, reduce schedules, and help avoid major headaches!
Vida4's dedicated architectural visualization team bringstogether the best of technology, creativity, andexperience to create functional digital replicas of your senior living projects—including independent living, assisted living, skilled nursing facility, and CCRC.
Let's discuss how together we can enliven the design of your next senior living facility!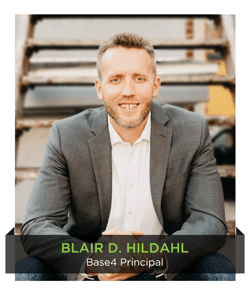 Thank you,
Blair Hildahl
BASE4 Principal
608.304.5228
BlairH@base-4.com

A few of the visualizations shown are from our hotel design division, Base4; for illustrative purposes only.