Reading Time:
4
minutes
For the past two weeks, I have discussed elevators—if you need one and what type? Now for the fun part! Today I download everything you need to know about Modular Elevators.
What is a Modular Elevator?
Modular elevators are turn-key, commercial-grade elevators that are manufactured offsite for speed and quality. They arrive on-site with a prefabricated structural body containing a steel shaft (or hoistway), an elevator cab (i.e., car or carriage), controls, rails, and drive systems—all pre-wired. In other words, a modular elevator arrives fully assembled at the jobsite where it is to be installed.
Installation
After factory production, the elevator is transported to the project by a truck and craned into place. Remember that it's important to make sure that the site is ready to receive the elevator.
Site prep includes designing and building the foundation to the exact engineering specifications. Crews must prep the rough opening for the elevator at each level and enclose the minimum rough-in requirements of the elevator equipment room.
A modular elevator typically installs between one and seven days with several additional days for testing, inspections, and permitting from the local jurisdiction.
This video from Phoenix Modular Elevator explains the installation process at a Wisconsin-based Marriott property.
Benefits of Going Modular
Shorter lead time: It takes manufacturers about eight weeks to prepare the whole assembled elevator once project drawings are finalized.
Quality: Every part of a modular elevator is prepared and assembled in a factory setting under strict quality and precision measures.
Quicker install: The time saved by opting for the modular elevator versus a traditional one is significant. Typically, it takes between one and seven days to install and get it ready for use, whereas a stick-built elevator takes several months to be fully functional.
Reduced human capital costs: Modular design allows for reduced labor costs due to a shorter timeframe.
Faster ADA compliance: It is an easier and cost-effective way for existing and older construction to accommodate elevators for ADA compliance.
Increased safety: Horizontally built units reduce work hazards and injuries, providing a safer alternative to the vertical build of traditional elevators.
Flexibility: Modular gives more freedom to design and customize.
Producing elevators horizontally allows for safe and quick construction.
As I wrap up this three-part discussion on elevators, let me know if you would like to discuss whether a modular elevator (or any other type) might be right for your next project.
We are always researching better ways to build—check out STONEPILEllc—The Online Construction College, the only institution of higher education dedicated 100% to construction innovation and education.
Coming soon: June 15-17th, 2021—Advancing Prefabrication 2021, a leadership conference dedicated to revolutionizing prefabrication and industrialized manufacturing approaches. Don't miss a chance to attend!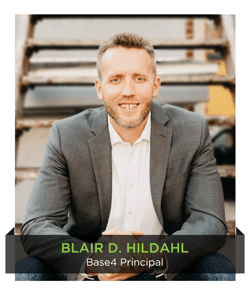 Thank you,
Blair Hildahl
BASE4 Principal
608.304.5228
BlairH@base-4.com


Source: