Reading Time:
3
minutes
For the past year, developers have innovated to stay afloat during the economic standstill and pandemic-related production challenges.
2020 accelerated the need for the AEC sector to make better use of available technology. Now that we are coming out of crisis mode, which of these revenue-boosting Tech Trends should you keep in your toolbox? Two major changes are here to stay: Offsite and Modular Prefabrication and Virtual Reality.
Offsite and Modular Prefabrication
Modular construction in the US has grown significantly. The increased productivity and lower costs are the driving factors to embrace modular construction.
Factory production reduces onsite construction times and addresses some of the safety concerns raised by the pandemic. As the construction industry seeks new ways to construct faster, safer, and at reduced labor costs, the trend toward modular, prefabricated, and even 3D printed building parts will continue to rise.
The Prefabricated Building Market in the USA is expected to grow at a Compound Annual Growth Rate (CAGR) of approximately 4% in 2021.
Augmented Reality or Virtual Reality
From mobile technologies and wearables to robotics and drones, firms use technologies to create 3D visualizations of future projects and the surrounding environment, giving building owners and tenants virtual tours before the project is started.
For builders and developers, VR facilitates the use of wearable technology and 360-degree video to enable:

3D visualization of future projects in their surrounding environment.
Automated building measurements.
Fast and affordable simulation of architectural and structural changes.
Safety training and hazard simulations.
At BASE4, we are architects & engineers rethinking the way buildings get built. Our team works with developers and general contractors to review traditional building methods by infusing innovative technology, forward-thinking design, and offsite manufacturing principles to create projects CHEAPER and FASTER!
Check out STONEPILEllc—The Online Construction College, the only institution of higher education dedicated 100% to construction innovation and education.
Also, don't miss a chance to attend Advancing Prefabrication 2021, a leadership conference dedicated to revolutionizing prefabrication and industrialized manufacturing approaches. Coming soon: June 15-17th, 2021.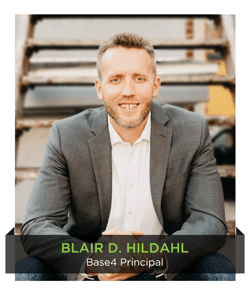 Thank you,
Blair Hildahl
BASE4 Principal
608.304.5228
BlairH@base-4.com


Source:
1. https://www.reportlinker.com/p06039532/United-States-Prefabricated-Buildings-Industry-Study-Growth-Trends-COVID-19-Impact-and-Forecasts.html?utm_source=GNW
2. https://www.statista.com/statistics/870924/worldwide-digital-transformation-market-size/
3. https://www.constructionexec.com/article/covid-19s-long-term-changes-to-the-construction-industry