Reading Time:
3
minutes
We have been closely watching what is happening in the hospitality industry, and we are delighted to announce the upcoming launch of a new upper-midscale extended-stay brand: Hyatt Studios. Our incredible team is excited to join this new upper-midscale extended-stay brand release as we work on several new Hyatt Studios Hotels for our clients.
The Hyatt Studios brand distinguishes itself from other extended-stay options through efficient design and a lean operating model, improving the return on investment by minimizing construction and operating costs.
Hyatt Studios: The first flexible, upper-midscale extended-stay brand in the Americas.
The Hyatt Studios brand allows Hyatt to expand into more secondary and tertiary markets with limited-to-no brand representation, fulfilling World of Hyatt member demand and creating new opportunities for developers.
Sized to fit 123 rooms comfortably onto smaller sites.
Durable, low-cost building materials.
Landscape designed for easy maintenance.
Distinctive "Hyatt Studios" brand marquis.
Welcoming, extended front patio space with protected seating areas.
Additional patio space in the rear with outdoor grills.
The Hyatt Studios Hotel interior lobby floor plans feature an open design to operate a lean labor model. It features clean, modern rooms arranged for maximum efficiency and guest functionality through more extended stays.
Great things are coming for the hospitality industry, and BASE4 is pleased to be part of it. We have the expertise, technology, and processes to guide clients through every stage of their project anywhere they are. We believe in a PRODUCT mindset—bringing standardization and manufacturing principles to the AEC industry. We are here to discuss the best way to build with a product-centered approach.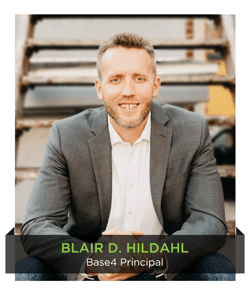 Thank you,
Blair Hildahl
BASE4 Principal
608.304.5228
BlairH@base-4.com