Reading Time:
4
minutes
The amenities found in a multifamily development have become the YES factor for tenants. Amenities such as a pool, fitness center, business center, indoor court, game room, dog park, and outdoor grilling and dining areas are just some of those great add-ons that can boost your project. It's time to amp up your multifamily development with some great amenities —read on!
Whether a roof, a terrace, or a courtyard, developers are putting more thought into outdoor areas.
In an increasingly amenity-focused housing market, the right fitness offering is key to retaining current residents and appealing to prospects. Fitness centers have long been an important amenity for multifamily dwellers. Wellness amenities as an essential part of the resident experience are leveling up across the multifamily markets, with forward-thinking developers and operators quickly adapting to include them in their strategic plans.
The National Apartment Association found that nine out of every ten new apartment buildings feature a fitness center.
Adding smart-home features is another way to differentiate your multifamily building in a tight market. Going together with the need for security is the demand for electronic locks and magnetic key card entry systems for your building. Residents seek an additional area to work in their residential building beside their apartment unit. Lobby Wi-Fi, charging centers, extra outlets, desks, and task lighting make a property more appealing to prospective residents. Amenities, such as patio spaces are making a building or unit unique and marketable.
BASE4 | All Services In-House
Conventional thinking only increases costs, schedules, and waste. "Business as usual" is no longer good enough. We help developers, general contractors, and factories find better ways to build through innovative technology, forward-thinking design, and offsite manufacturing.
BASE4 has a product-centered approach using 100% Revit design. We perform all services in-house, including architecture, structural engineering, MEP engineering, interior design, 3D BIM visualization, and construction administration. We have over 200 engineers, architects, and designers ready to move your projects through to completion—with fewer coordination errors and faster speed.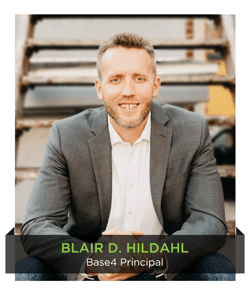 Thank you,
Blair Hildahl
BASE4 Principal
608.304.5228
BlairH@base-4.com