Reading Time:
4
minutes
The extended-stay market has been hot among developers. This segment has many contenders, ranging from midscale to upscale, catering to different guest demographics.
Featuring one of the most straightforward prototypes, WoodSpring Suites sticks to a no-frills approach. The brand is designed to take less than 12 months to build and does the basics right. After all, WoodSpring Suites is intended to increase the bottom line for owners/developers while filling the affordable extended-stay market gap.
The brand has been growing fast since it was acquired by Choice Hotels in February 2018—all thanks to its efficient business model.

Contents:

With a strong developer interest, Choice Hotels plans to push the brand growth even further. In April, there were 258 open WoodSpring Suites properties and the brand is making progress to reach 300 by next year. In Q1 of this year alone, seven franchise agreements were awarded. 1
WoodSpring Suites' prototype is key to its success. The brand requires a minimum of 83,550 sq. ft. site (approximately 2 acres)

with a 48,100 sq. ft. building
consisting of 123 rooms
and parking space for 125 cars.
Click the image to expand
Click the image to expand
Here are some good reasons why you should consider developing more WoodSpring Suites properties:
Faster Development: It's a brand designed to be developed in nine to 12 months.
Bottom Line: With a 54.3% gross operating profit (GOP)

2

, WoodSpring Suites performs remarkably. Compare it to 50.3% GOP for upper-scale extended-stay hotels and 49.2% GOP for moderately priced properties, according to a CBRE report. 3
Lean Operations: Even though WoodSpring Suites maintains strict brand regulations, hoteliers can run lean operations, as the essentials and decent maintenance are all that's needed. Not to forget lower operating costs for the extended-stay segment in general.

Wood-like vinyl floors are easy to maintain while wall-hung guestroom furniture makes cleaning faster and easier—these factors add up to keeping the maintenance costs low.
As a result, the average property requires only 6-8 full-time equivalent employees.
Occupancy: The brand maintains a healthy 74.45% occupancy. 2
Safer Option: Many developers see WoodSpring Suites as a safe choice. They usually balance out the risk factor by developing other upper-scale brands while having a few WoodSpring Suites hotels do their work.
To further increase the efficiency of WoodSpring's already-competent prototype, we innovated a way that may help you expedite the development.
As a WoodSpring developer, you might know that the brand prototype comes cost-effective. However, the property would require some alterations based on site condition and geography.
So, the best of Base4 architects and engineers created an in-house model, which makes it even faster to employ any changes. With this process, we can efficiently design several WoodSpring Suites properties per their unique locations and code standards—simultaneously.
We at Base4 do detailed code study and assess the site to efficiently design your WoodSpring Suites property. If you're looking to develop one, feel free to reach out!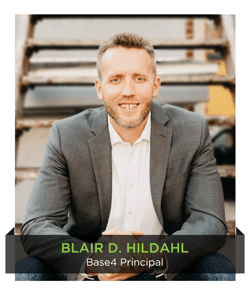 Thank you,
Blair Hildahl
Base4 Principal
608.304.5228
BlairH@base-4.com