Reading Time:
3
minutes
The demand for suburban multifamily dwellings, along with the rising costs of materials, have motivated developers to look for ways to build more units at a cheaper cost. It's time to consider your building density!
What is housing density? It's the number of housing or dwelling units per acre of land. Different housing types require different densities, and density should always be chosen based on the project's scale and purpose.
In simple terms, the higher the density, the higher the number of dwelling units per acre.
How can you optimize your land to build more apartments at a better price?
Choose the right product or housing type for the site. For example, would a podium or wrap design fit best?
Don't overbuild for the market; know what tenants expect (amenities/services) and what is being offered by competitors.
Utilize efficient space planning and tenant circulation for both site and buildings to maximize rentable space.
Change the unit mix to include a higher percentage of smaller unit types.
Consider using the space-saving efficiency of compact parking if the city code allows it, including: surface, podium, structured, below grade, and automated parking systems.
BASE4 Can Help!
We are experts in designing for maximum usable square footage to accomplish your expectations for building density. We help developers get the most out of their projects, and we will walk you through the best designs for your apartments.
Check out STONEPILE llc—The Online Construction College, the only institution of higher education dedicated 100% to construction innovation and education.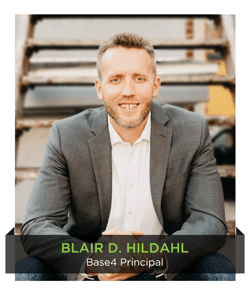 Thank you,
Blair Hildahl
BASE4 Principal
608.304.5228
BlairH@base-4.com


Source:
https://escholarship.org/content/qt2np5t9ct/qt2np5t9ct_noSplash_218d42b13d acd75d9d0a60b4c635dcf7.pdf