Reading Time:
4
minutes
One of the primary challenges affecting construction costs is the significant labor shortage resulting in extended project schedules and increased project costs. One solution to address this problem is moving to prefab. Is it time to consider it for your next project?
What Can Be Done?
The current labor shortage in the construction industry highlights the prevalent problem of inefficiency. To combat this issue, job sites need to implement more efficient processes. Technology plays a crucial role in streamlining construction operations.
Improve Schedules & Budgets with Prefab
Prefabrication is gaining popularity due to its numerous benefits, leading more developers to consider offsite construction techniques. The construction industry is leveraging technology and innovation to manage the disruption caused by the labor shortage.
Technology enhances construction site efficiency!
The adoption of industrial, prefabricated, and manufacturing techniques is an emerging way to realize the efficiency gains so elusive in architecture, engineering, and construction while improving profitability, project quality, and even–skilled labor shortages.
BASE4 | Prefab Experts
BASE4 believes in projects that are both affordable and fast to build. Our team excels in developing innovative solutions to minimize the cost of your project by incorporating smarter design practices. It's time for a cost-effective building solution: Build Cheaper & Faster!
We have the expertise, technology, and processes to guide clients through every stage of their project—anywhere they are. Our team works with developers and general contractors to rethink traditional building methods by infusing innovative technology, forward-thinking design, and offsite manufacturing principles to build projects CHEAPER and FASTER!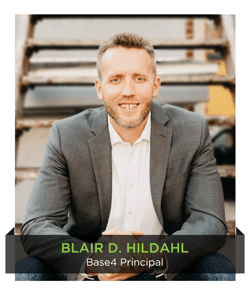 Thank you,
Blair Hildahl
BASE4 Principal
608.304.5228
BlairH@base-4.com